EXCURSIONS WITH LOCAL GUIDES IN:
DAY TRIPS FROM AGADIR
MOROCCO
FROM AGADIR TO TAGHAZOUT
Our trip day start from Agadir at 9h,then we will drive on the way to Essaouira via Tamri village(banana berber countryside),this village has every Monday a public market. At the plan tour we have a boat excursion in the sea and camel trek, after that we have a tour around this small atlantic berber countryside. You will be lucky to pick some lovely pictures Up on the sun rise and sunset too. If someone interested by surfing, we have other plan day excursion for the surfers. After this day trip we will be back to Agadir after the sunset.if you are a romantic couple or artist single,we can offer for you the sun rise in Agadir Oufala too.
FROM AGADIR TO TAFRAOUT
Our day trip start from Agadir at 8h,we will across Ait Baha mount,it's a great mountain. Tafraout is a large valley of almond , also that contains palm trees and specultural mountains structures:animals and Humans,after all that we have to enjoy our excursion by tiznit silvers and souss villages cultures and customs. After this day trip we will be back to Agadir at 19h!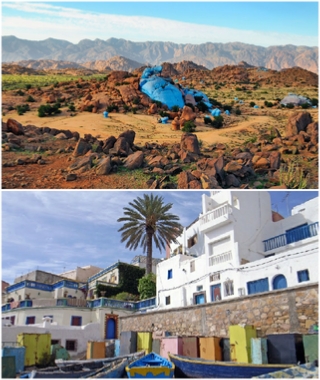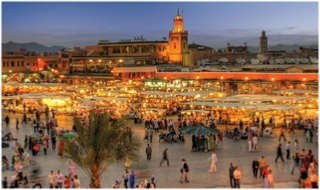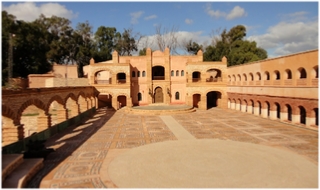 EXCURSIONS FROM AGADIR
MOROCCO
AGADIR MEDINA & SOUK DAY TRIP
Inezgane souk : Half Day The people ,they live around Agadir and specially in the small villages and towns, they bring a lot of kinds of traditional productions ,vegetables and fruits,like :Spices, dried fruits, traditional clothing, slippers,carpets, jewelry... And different crafts too ... It is also here where you can admire or buy multiple items from the Moroccan crafts (rich and varied) …With a great selection and good prices! El Had souk : Half Day The most important thing ,that is the building structures of medina wall and also it has a lot of doors,for giving another value more than others.
FROM AGADIR TO MARRAKECH
Discover Marrakech on a full-day trip from Agadir. Visit El Bahia Palace, see the Saadian tombs, and explore the colorful market stalls in the medina. Browse for jewelry and traditional Moroccan food before watching the sun set at Djemaa El Fnaa. Visit the splendid Alawi-style El Bahia Palace, formerly home to the Sultan's wives and concubines. The palace boasts beautifully landscaped gardens, cedar wood ceilings, marble floors,and exquisite zellij decorations. We will see the Saadian Tombs and then stop for lunch at the stylish Menzeh Dada or Dar Nejjarine restaurant. Next, explore the city's souks and medina with your friendly guide. Walk through various areas such as the Berber apothecary, the carpet souk, and the Kissaria for woven clothing. We will experience the Djemaa El Fnaa at sunset, a traditional local meeting place in the heart of Marrakech. See snake charmers, scorpion dances, soothsayers, acrobats, magicians, storytellers, dancers, and more, before returning to your Agadir.
EXCURSIONS FROM AGADIR
MOROCCO
AGADIR TO ESSAOUIRA
Departure at 8 am. After about 3 hours, we reach the ancient port of Mogador, built by the Portuguese in a narrow peninsula with a huge sand crescent. Perfectly sheltered by stunning French-built walls of the eighteenth century, the city is largely pedestrian and is divided into various districts for design in grid form. From the top of Skala you can see the colorful fishing port and Spanish fortresses and guns.
Essaouira is also famous for its fine handicrafts, especially wooden objects (tuya) perfectly interspersed with lemon wood, ebony, nacre or copper or silver threads. If you like fish, enjoy a meal in the port. Evening return to Agadir.
FROM AGADIR TO TAROUDANT AND THE PALMERY :
Departure from Agadir and then drive to Taroudant the ochre city fortified by the saadiens dynasty surounded by pomegranate, bananas, oranges and olives groves, visit the main square, the kasbah, and the old mosque, after that drive to tiout palmery crossing the argan forest with a spectacular view of goats climbing the tree, arrival to Tiout and start the walk between thousands of palm groves exploring the traditional irrigation system of the valley which is also sandwiched between the high and the anti-atlas mountains. Lunch there and by the earlier afternoon drive back to Agadir. -please note : this trip is possible in a half day included only Taroudant city.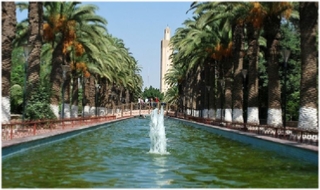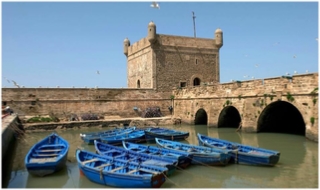 Our private Morocco tours starting from cities Marrakech, Fes, Casablanca, Agadir and Tangier. We also provide private airport transfers and car rentals in Marrakech.